Send and receive photos, documents and more between nearby Android devices1 and Windows PCs2.
How to install the Nearby Share app on Windows
Start by navigating to Android's Nearby Share page.
Click the Get Started button to download the Windows app.
Once it's installed, launch the app and sign in with your Google account.
From the setup screen, give your PC a name and click the Receiving box.
By default, it's set to No One, which defeats the purpose of the entire app.
Click the drop-down menu for a couple of choices.
We would recommend you go with Your Devices, as it limits the app to devices linked to your Google account.
You can also limit it to your contacts or open it to everyone.
Press Done to complete the setup.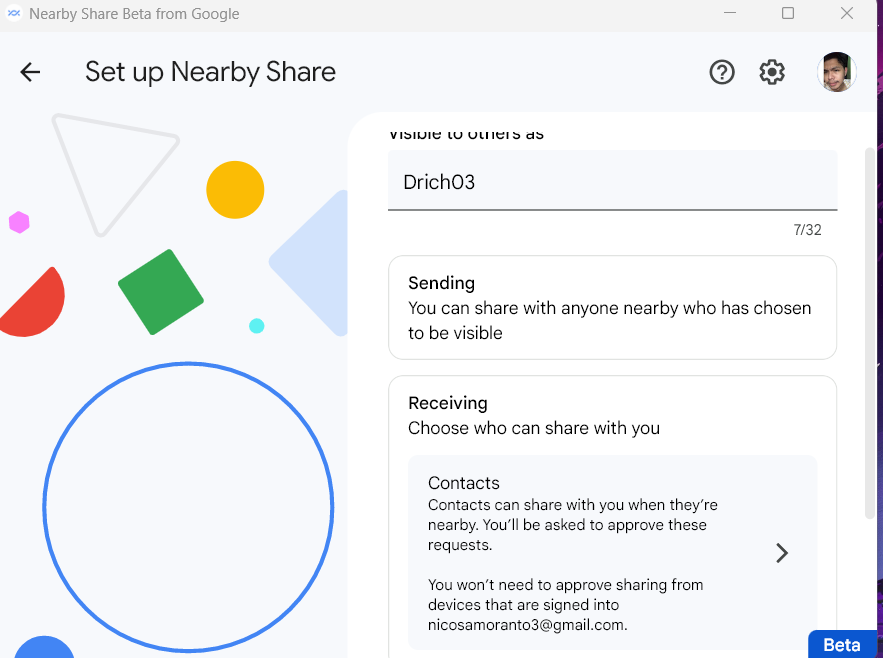 Before going further, make sure that everything is up and running on the Android side. Weirdly enough, Nearby Share is not an OS option; it's a feature inside Google Files, which should be installed on your device already. If it isn't, you can download it here. Open Google Files, tap the Menu button, go to Settings > Nearby Share and turn on the Use Nearby Share feature.
How to wirelessly transfer files between Android and PC with Nearby Share
On your Android device:
Open the file you want to share. This can be a photo, a document, or any other file that you want to send to your PC.
Tap the share icon or the share option in the app or program you're using to open the file.
In the sharing options, look for the Nearby Share option. It may be listed as "Nearby" or "Share nearby" in some apps. Tap on it to initiate the file sharing process.
If prompted, give Nearby Share permission to access your device's location and turn on your device's visibility for nearby devices.
Nearby Share will search for available devices nearby, including your PC. Once your PC is detected, it will appear in the list of available devices.
Tap on your PC's name in the list of available devices to send the file to your PC.
On your PC:
You should receive a notification on your PC asking if you want to accept the file from the Android device that is sharing it via Nearby Share.
Click on "Accept" to receive the file.
The file will be transferred wirelessly from your Android device to your PC. The transfer speed may vary depending on the size of the file and the capabilities of the devices involved.
Once the transfer is complete, you will be able to access the shared file on your PC in the designated folder or location where it was saved.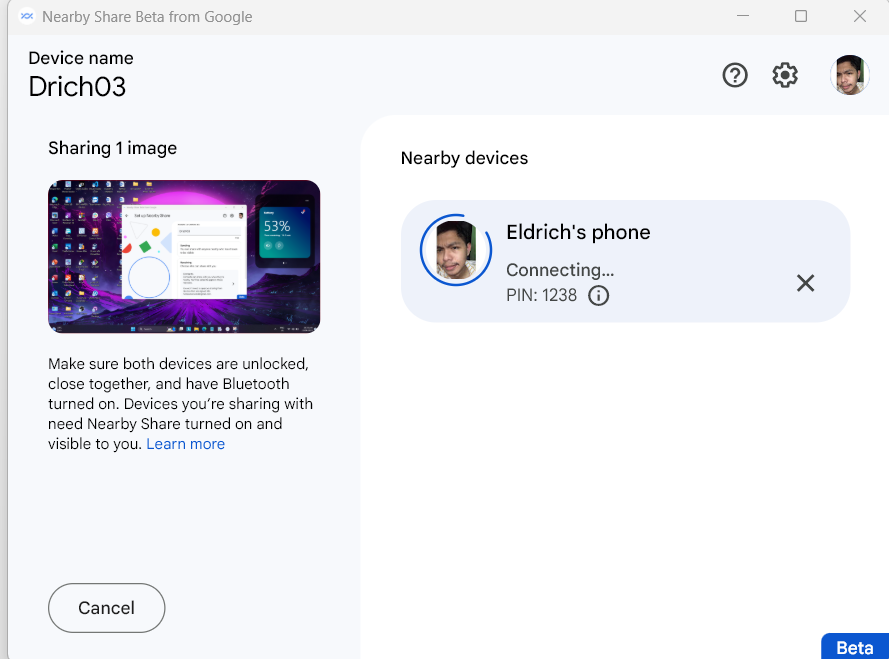 Conclusion:
the availability and functionality of Nearby Share may vary depending on the devices and operating systems involved, and it may require an active internet connection or Bluetooth to work. It's always a good idea to check the device specifications and settings to ensure compatibility and proper functioning of the Nearby Share app
Source Link: The New Nearby Share Beta App for Windows | Android