A Droplet is a virtual machine provided by DigitalOcean, a cloud computing platform. It provides users with the ability to deploy, manage, and scale applications on the cloud. Each Droplet is a self-contained virtual environment with its own operating system, memory, storage, and processing resources.
Creating your own droplet
When you log in to your account you will see a create button on the top of the page. Click it and select droplet.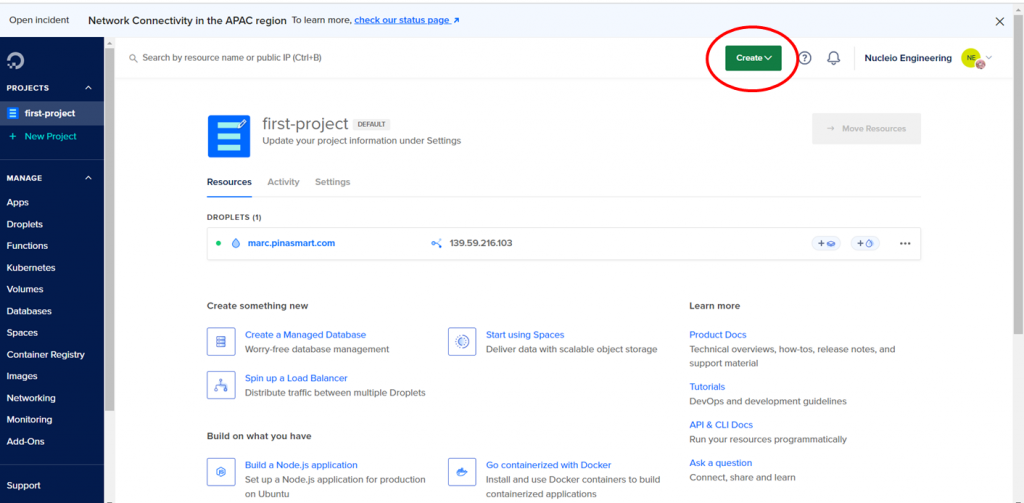 Choose the datacenter you want. It is advisable to choose a region that is close to you to avoid latency.

Choose the image file that suits your needs. If you have snapshots, click on the snapshots tab and choose your snapshot.

The droplet type and CPU options will depend on how big or small your project is.
If you wish to add storage, you can do so by clicking the add volume. There will be additional charges depending on how big the added storage is.

You can choose which ever authentication you like. If you choose SSH key, you can use the given keys or you can generate a new key.

These are some additional options that you can enable if you want.

Configure the last remaining field to your liking. Quantity is the amount of droplet that will be created with the same configuration. Hostname is the name for your droplet. Tag is just an identifier that will help you search your droplet if you have many. Project is where your droplet be saved after being created. You can also see the total amount for your droplet on the lower left of the screen.

Click create droplet if you are satisfied with your settings.