Quilbolt is an online paraphrasing and summarizing tool. Quilbolt helps users improve their writing by providing them with the tools to restructure and rephrase their text in the most appropriate ways possible. Students can use it to rewrite words, rephrase sentences and restructure paragraphs.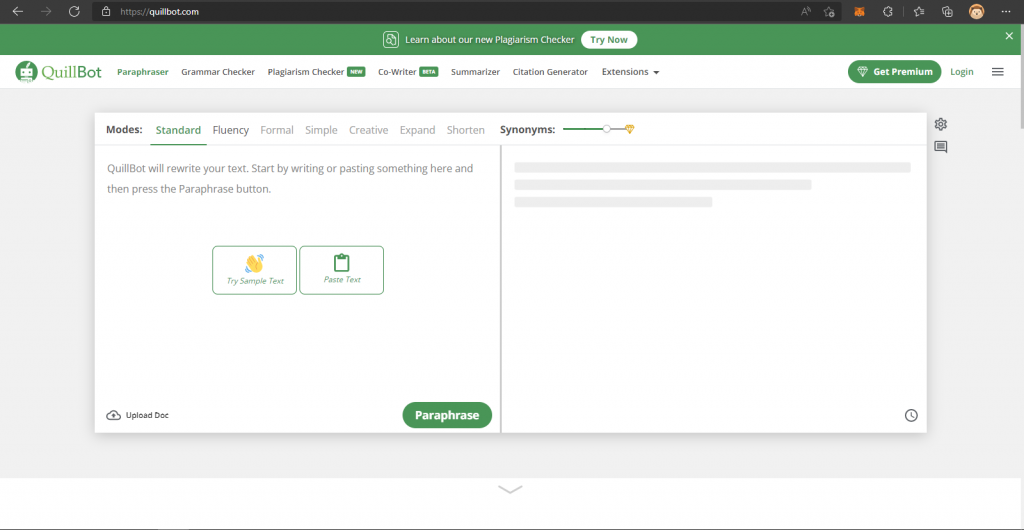 The way Quillbot paraphraser works is simple and easy: paste your text in the input box and click on Paraphrase. The paraphrased text is shown on the right box. Quillbot uses different colour highlights to mark the added changes and edits. For instance, the orange colour indicates changed words, the yellow colour for structural changes, and the blue colour marks unchanged words. Quillbolt offers 7 paraphrasing modes : standard, formal, simple, creative, expand, and shorten. Each mode has unique features, however, only the first two modes are free. 
The great thing about Quillbot paraphraser is that it is much more than just a paraphrasing tool, it also helps you fix "awkward paragraphs, improving weak topic sentences, and getting instant feedback and new ideas you can use to change up the structure, style, vocabulary, and tone of your work."
Quillbot paraphraser includes an integrated thesaurus that helps students find synonyms for individual words. You also have full control over the number of synonyms you want to add to your text using the Synonym tool. Simply click on any word to check the available synonyms 
Besides the paraphrasing tool, Quillbot also offers a Grammar checker that helps students prune their writing for grammatical mistakes and syntactic errors. It 'functions as a sentence checker, a spell check, and a punctuation checker'. Examples of errors the grammar checker can identify include: word misuse, comma splices, singular vs. plural nouns, consecutive nouns, possessive plural nouns, unnecessary prepositions, among others.
Reference:
https://www.educatorstechnology.com/2022/01/quillbot-excellent-paraphrasing-tool.html