A hosting control panel called cPanel allows users to manage files and domains using a graphical user interface (GUI), as well as emails, databases, and more. With the help of this interface, you can easily view account-related data and have access to the various tools and utilities that are included with your account. There are several features in cPanel which are very useful and these features will be discussed further as you continue with this article.
Email
With cPanel web hosting, managing your emails is simple because it provides a wide range of options. With cPanel, you may add, modify, and remove email accounts. You can configure your mailbox using your preferred client, such as Outlook, change the mailbox quota, and modify the passwords. Additionally, you can set up your emails to use your Gmail account. A mailing list option is available to you, making it simple to send emails to lots of recipients. You can forward emails to the recipients of your choice and filter emails based on your preferences.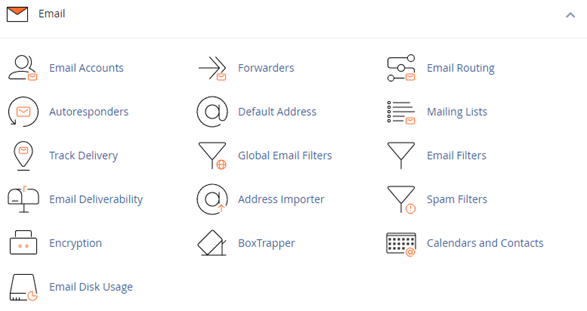 Files
FTP, often known as the File Transfer Protocol, is a protocol that enables users to upload and download files, create and delete folders for their files, and organize their data. It also enables you to modify file permissions. With the use of FTP accounts, cPanel web hosting makes it simple for you to manage all of this. After you sign up for cPanel web hosting, an FTP account will automatically be created within the cPanel. Multiple FTP accounts can be created without granting unauthorized users access. By designating a user to a certain directory in cPanel, you can choose the amount of access that the user will have.

Databases
You may manage the databases for your website under this cPanel category. Most online platforms, including WordPress, employ databases to store site data. The comprehensive database management tool phpMyAdmin allows you to modify, configure, and troubleshoot databases. Using the MySQL Databases tool, you may create new databases and database users and edit existing ones.

Domains
Your domains are completely within your control using cPanel. You may control your domains and DNS settings, add new domains and subdomains, publish domains once your websites are completed, and set up domain aliases and redirects.

Metrics
It's crucial for your business and marketing to monitor various website data. You may view a variety of statistics, keep track of errors, and measure bandwidth utilization in the Metrics area. Awstats is a great tool. This section enables you to identify your site's traffic sources, visitor count, and popular pages. Errors is another helpful feature in the Metrics section. Without logging in via SSH, you can use this to check the error log for your account.

Security
One of the most crucial things you can do is to maintain the security of your website. These tools provide you the ability to manage SSH access, restrict IP addresses, and guard against the hotlinking of your photos. Additionally, this is where you'll manage the security certifications for your website.

Software
You can increase the functionality of the websites on your account by using the Software category. Here, you may find two crucial tools that will assist you with configuring PHP on your website. You can choose which version of PHP is active on a certain site using MultiPHP Manager. You can make more precise adjustments with the MultiPHP INI Editor, such as turning on particular PHP settings and changing particular variables.

Advanced
You can provide your own Apache Handlers and Cron jobs, install FrontPage Extensions, and make your own unique Error Pages using a suite of features intended for more advanced users.

Preferences
You may customize a few features of cPanel itself under the Preferences category. To give just a few examples, under Password & Security, you may reset your cPanel password as well as modify the display language, your contact information, and even the language of the interface.
That's it! I hope this article helps you understand "What Features Are In A CPanel". If want to learn more about the benefits and drawbacks of cPanel you can visit "What Is CPanel? Pros And Cons".