Synthesia.io allows you to convert any script or piece of writing into an AI film using a variety of AI avatars. Whether you need easy and attractive explainer films, a video to deliver to your company's workers, or general video material, Synthesia can help you generate it.
It provides a unique and innovative solution for company owners and businesses to generate films for a variety of purposes – video creation does not have to be expensive or time-consuming. It enables you to make spectacular videos without the need for a large video production staff or expensive equipment.
Overview
Synthesia.io employs a variety of AI-based technologies to create quality films without the assistance of a camera crew, production team, or microphones – although reactive AI is the major form of AI technology.
Reactive AI is configured to do certain tasks based on the type of information received. This is true of all AI video software and other fundamental AI-based technologies.
Pricing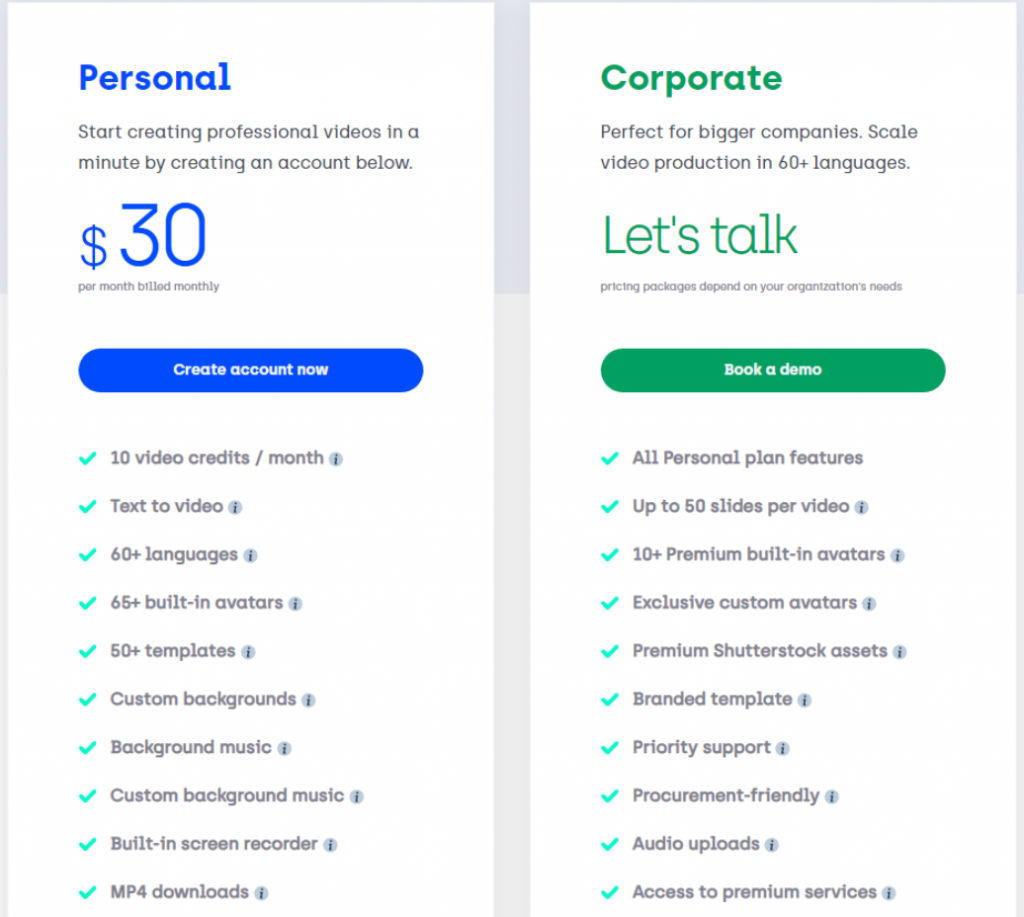 Synthesia has two pricing levels, both of which offer different benefits but are geared toward individual users rather than enterprises and corporations. Their monthly subscription offers 10 video credits and the ability to create such movies in over 60 languages and 50 templates; you can also choose from over 65 avatars to best fit your style and content type.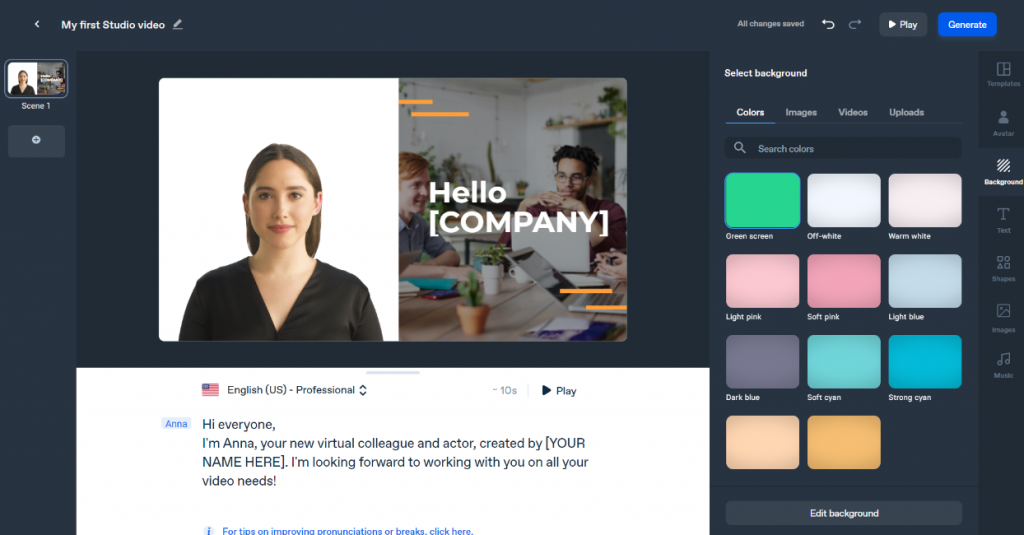 With the personal plan, you don't have a lot of customizing choices to guarantee your movie reflects your brand.
At $30 per month, you can make a professional movie with your own background, whether it's a color, stock video, or picture. There's also a built-in screen recorder so you can deliver demos with AI voice-overs.
If you don't like pre-made video production templates, you may make your own by incorporating text, pictures, and shapes into each scene.
When you've added your graphic components, you may finish the film by adding music to the background.
If you are a company or organization, the corporate subscription includes all of these capabilities and more but you may add up to 50 slides each movie and there is no limit to the amount of films you can make per month.
Synthesia.io's Available Features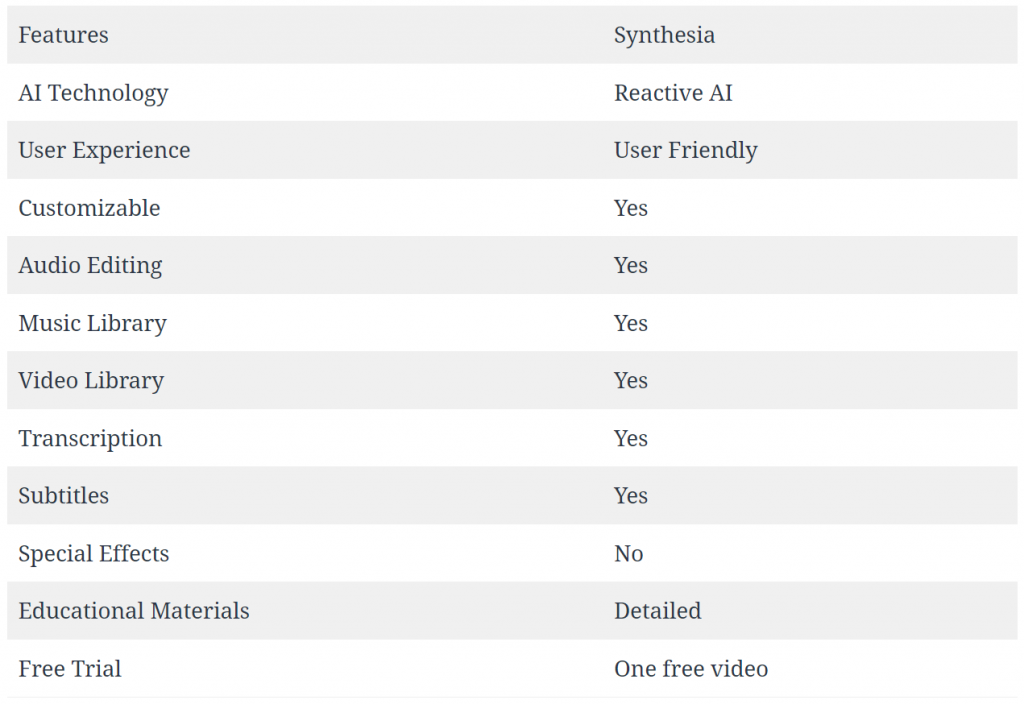 What Synthesia Does Well
Besides from making great videos, Synthesia excels at a variety of AI video creation aspects.
Customizable Features
The entire process is extremely customizable, from the backdrops and avatars you create to the screenplay itself – and you can even adjust the background music to give off the precise vibe you want with each video production.
Using the Synthesia studio, you may select an avatar that best suits your needs, select from a variety of languages, and add music to make a more customized film.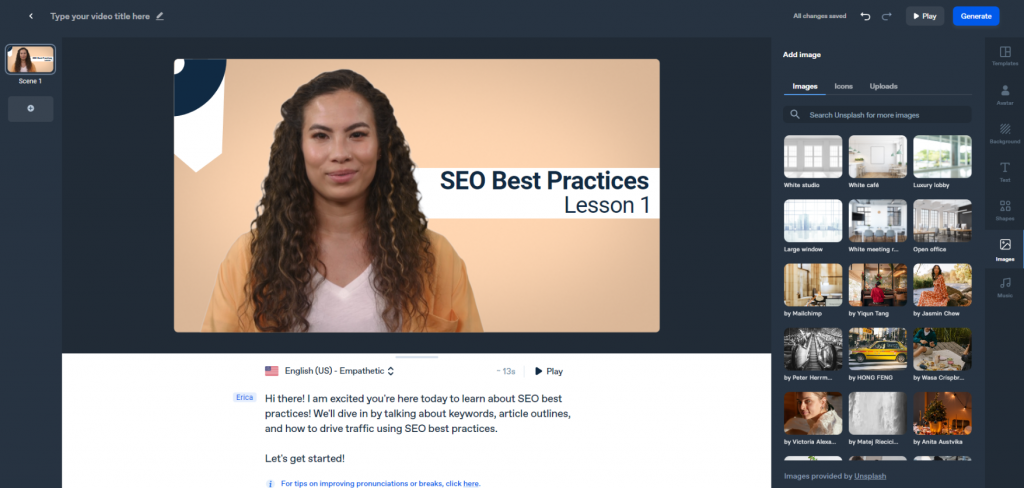 In the previous example, when I generated my script and chose the avatar, I could go in and add the title and subtitle text to the slide and visuals. This not only helps you to make a more professional-looking and high-quality video, but it also gives you more creative license when making premium films. Assume the video you're making is more spoken or visual in nature. In such situation, It allows you to specify whether you want the avatar to appear on screen or only the voices.
Subtitles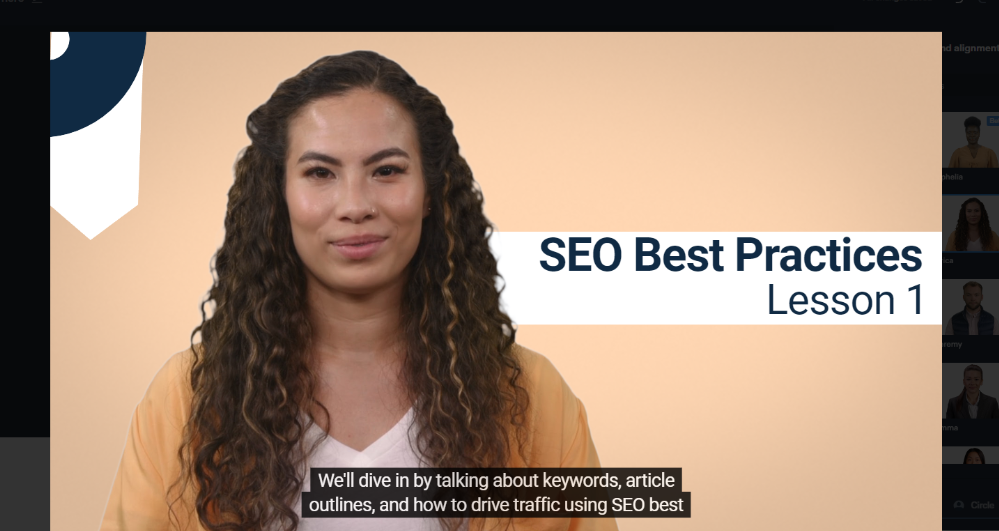 The best aspect about Synthesia AI is that it creates subtitles for you once you've finished tweaking and click the 'generate' button.
So the days of spending hours editing video to ensure the subtitles are proper and match up with the audio are over. Each video you make includes automatically created subtitles, ensuring that it is accessible to all viewers.
The subtitles, like the voice-overs, are available in a variety of languages. When you go through the list to choose the language for your voice-over, the subtitles immediately change to reflect the same terminology.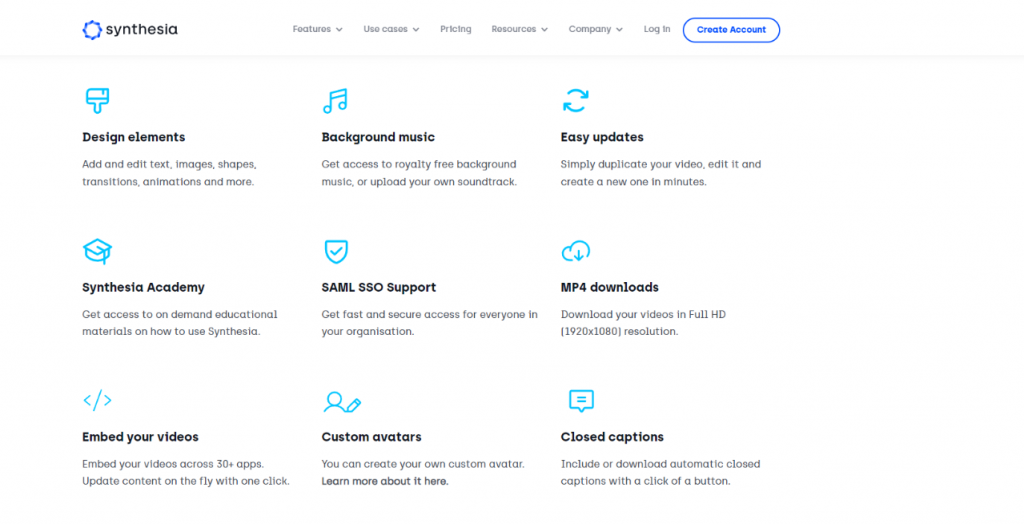 As a result, it is an ideal tool for worldwide businesses who want to generate the same sort of content but in a different language for each video. Apart from the many languages, each language has a range of tones to pick from. Your video can sound empathic, natural, easygoing, lifelike, warm, serious, and many other things. Whether you're making training or marketing films, you can determine your message's tone – just as you would if you filmed it yourself.
User Experience
Synthesia is simple to use, and the platform offers a wealth of materials to help you create your movies. Each step is simple, and you have access to specific tools that make editing and making a movie simple yet customized. Users with a variety of backgrounds and talents may simply utilize our platform; you do not need to be an AI specialist in any way! The media you may add to the film is added with a drag-and-drop or click-to-add technique, making AI video production with Synthesia simple. If you have any problems when utilizing Synthesia to make movies, they offer an excellent customer care team to help you succeed.

If you're dissatisfied with whatever you've contributed or want to modify the color, size, or style of a shape, or the other material you've included, you can quickly undo or erase it without having to start from scratch or having any video editing skills.
Synthesia genuinely simplifies the process of importing photographs or video, changing and editing the screenplay, or using AI avatars to create excellent product marketing, how-to, or training films.
Educational Materials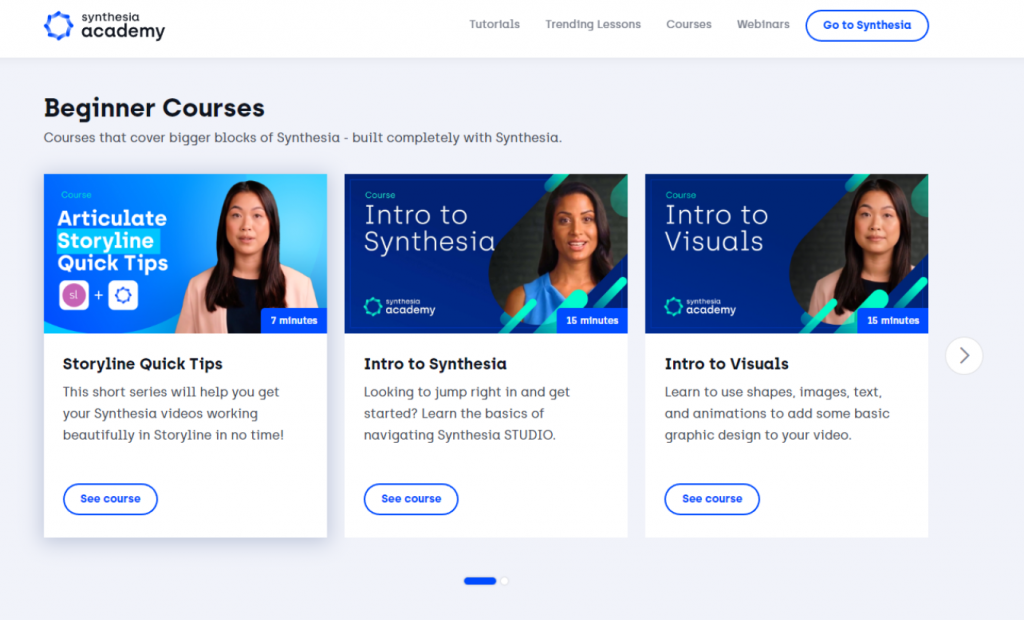 When you begin using Synthesia, you will have access to instructional tools such as how-to videos and starter courses to help you learn more about generating professional videos on their platform. Whether you need more information about avatars or how to create amazing marketing films with images, their instructional tools are fantastic resources for learning the ins and outs of Synthesia.io.
What Could Be Improved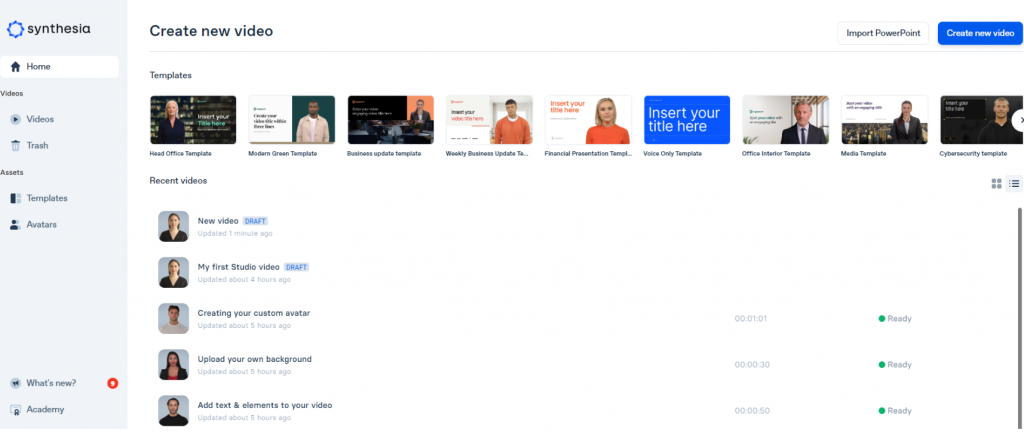 Having said that, there are a few ways Synthesia AI might improve its movie creation process and software. Assume you don't require a plethora of features for your video. In that scenario, Synthesia has the key ones covered – you can add shapes and text, modify the backdrop, add an AI avatar, and pick from over 60 languages – but there are ways you might enhance to add flair to your films in terms of added capabilities.
Conclusion
Synthesia.io offers numerous positives in terms of the quality of video you can create, the number of voices available to choose from, the app's user-friendly layout, and the customer care you can contact if you need help with any area of their page.
The company's objective was to enable organizations to create and grow content by utilizing media actors without the need for large-scale production teams or expensive video and audio equipment.
You can reach and produce content for audiences all around the world by employing the variety of voices and languages they provide – many customers agree, as seen by their 5-star reviews.
Synthesia is ideal for business owners, entrepreneurs, social media managers, marketers, and any digital company that wants to use professionally made media without spending thousands of dollars on a production crew.
If you're looking for a signal to upgrade your marketing video production, Synthesia is it. You may use the corporate plan to submit your company logo, or you can use a personal project to upload your files.
Synthesia can help you make excellent films for your next marketing campaign, staff training day, or how-to social media post – and you can do it from anywhere in the world.