Introduction
Looking to declutter your browser tabs and supercharge your productivity? Look no further than OneTab, the must-have browser extension for busy internet users. Say goodbye to tab overload and hello to organized efficiency with this powerful tool!
installation
Getting started with OneTab is a breeze. Simply head to the Chrome Web Store, search for "OneTab," and click "Add to Chrome." Once installed, the OneTab icon will appear in your browser's toolbar, ready to revolutionize your tab management game.

how to use
Using OneTab is as easy as one, two, three tabs! Whenever your tabs start to pile up, simply click the OneTab icon. Instantly, all your open tabs will be condensed into a neat, organized list on a single page. You can easily restore tabs individually or all at once, making it a breeze to pick up where you left off.
Here are a list of open tabs. Now we will select the One Tab Extension.

After you click on the extension it will bring you to the OneTab page. Here you can Bring all tabs into Onetab, share those tabs as a web page, export and import urls and manage options.

After selecting the Bring all tabs into OneTab option here is how it ooks like. You can restore all the tabs or restore your chosen tabs.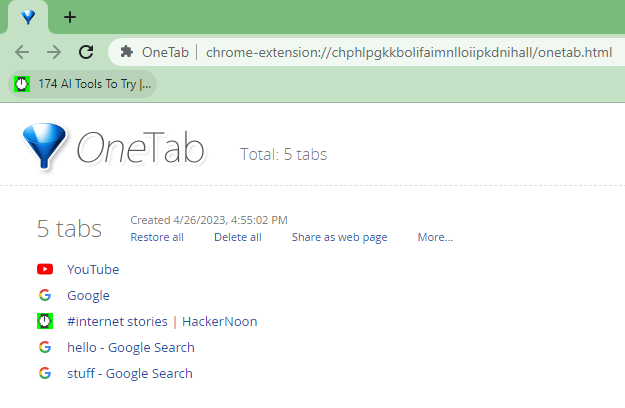 Plus, you can easily share your tab groups with others for seamless collaboration. And if you're worried about losing your tabs, fear not! OneTab automatically saves your tabs so you can easily access them later, even after restarting your computer or closing your browser.
conclusion
In conclusion, OneTab is a game-changer for anyone who wants to streamline their browsing experience and boost their productivity. With its easy installation, user-friendly interface, and powerful tab management features, it's a must-have tool for anyone who spends time online. Say goodbye to tab chaos and hello to organized bliss with OneTab! Try it today and experience the joy of a clutter-free browser.