Originality.AI is a no-frills, user-friendly AI and plagiarism detection solution. And it's rather excellent at it.
I tried pieces I knew were written by AI, articles I wasn't sure about, and one I made myself using a combination of my own writing and paragraphs from an AI writing tool. That was perfect each time.
I attempted to utilize the Google Chrome addon but received no true Originality score. Nonetheless, if the score had been correct, I could see that the thorough report would have been really beneficial.
One thing I would do to keep things organized is to name the scans. AI does not automatically name the scans for you.
Pros and Cons
Pros
The platform of Originality.ai is straightforward in its design. Simple to use!
It recognizes AI-written text and checks for plagiarism.
Price is among the most competitive in the industry.
There is no learning curve associated with utilizing the platform.
Cons
There is no file upload option.
Each scan must be labeled. That is not what it does for you.
The Chrome plugin did not function properly for me.
Is Originality.ai Worth It?
Indeed, Originality.AI is worth it for individuals who require the combination of AI detection and plagiarism, given its low price and ease of use.
What Is Originality.ai?
Originality.AI is a simplified artificial intelligence detector and plagiarism analyzer. There are no bells and whistles. It just does the job.
The platform's design is clear and simple to use, as seen in the video. I must admit that I kept pausing to question myself, "Is this really all I need to do?" "
It's quite simple to use. Again, there are no bells and whistles or extra things to learn. Just copy and paste your content into the text box. It will then inform you of the number of credits that will be utilized to either check for plagiarism or detect AI-generated material (or both). Then simply press a button.
It will also identify content that it believes was created by AI as well as potentially plagiarized text, which is extremely useful for optimization.
Who Would Make Use of Originality.ai?
Originality.AI may help you ensure that your AI-generated material is more human-like and not copied.
You may also use Originality.AI to see if any writing you've been provided was created using AI. This can assist you guarantee that the information you anticipate to be authored by a person is written by a human.
Accuracy of Originality.AI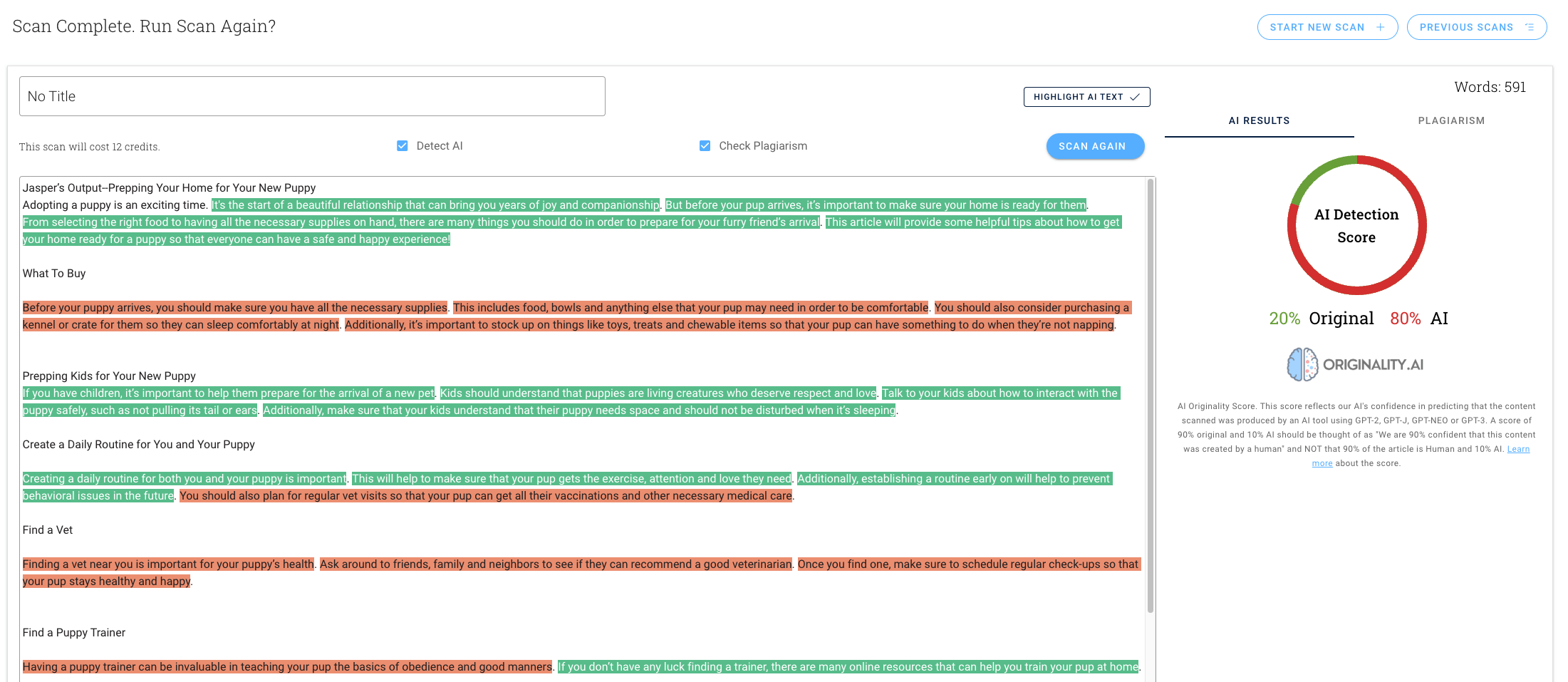 Originality.AI detects GPT-3 and ChatGPT with 94% accuracy.
When working with AI detectors, you should expect a wide range of replies. I can run the same text through three different AI detectors and get three different results. One will claim that the text is 93% human-written, another that it is 80% human but a bit too predictable, and the final that it is 50% AI-written. A hard and fast guideline for how much AI-generated text should be in your articles is a difficult line to walk.
Having said that, the accuracy of Originality.AI appears to be on level with, if not somewhat more sensitive than, other AI detectors. I mean, 94% accuracy isn't bad at all.
My main goal is that it will provide me more information about which sections of the text are suspected of being written by AI. In fact, considering the abundance of free AI detectors available, I was surprised that it wasn't included.
The plagiarism detection tool appears to be equally accurate. I didn't come across any annoying plagiarism warnings for popular sentence structures, like I did with in-product plagiarism checks. What I mean is that Originality.AI detects larger "genuine" concerns rather than popular words that aren't truly instances of copying.
How Does Originality.AI Compare?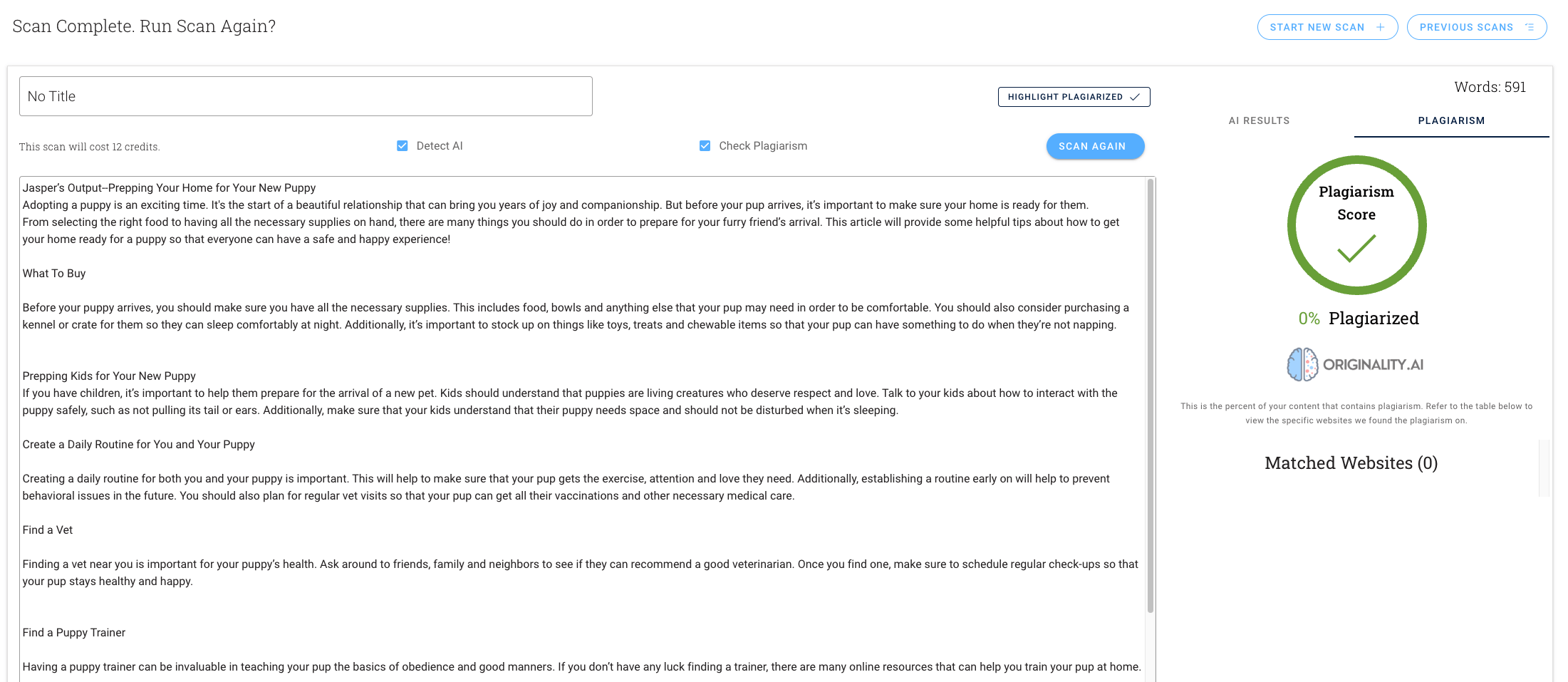 I routinely utilized Content at Scale's free AI detector before trying Originality.AI. While I feel they are both on par in terms of detecting AI-generated material (Originality.AI may be even more difficult to pass), I especially love Content at Scale's report-like response.
Originality Chrome's extension may deliver the report I'm looking for, but because it didn't work for me, I couldn't make that comparison.
To be honest, Content at Scale does not include a plagiarism detector unless you use its text editor on an article that it has made, so I can't evaluate pieces written by freelancers. Possessing this feature is a significant advantage for Originality.AI, especially because it is less expensive than Copyspace's plagiarism analyzer.
Integrating Originality.ai into Your Workflow
It would be simple to include Originality.AI into my process. I already have a point in my editing process where I test for plagiarism and AI-generated content, so switching tools would be simple.
At the conceptual and substantive stages of the editing process, I personally test for AI-generated content and plagiarism. Testing at this stage allows me to detect issue areas early on, allowing me to fix them first.
Pricing
The cost of using Originality.AI is about $0.01 per 100 words, which is exceptionally affordable. They also have a $20 sign-up bonus for the first 2,000 words.