Introduction
Everyone desires a thorough media converter with several functions. Thus, if you're looking for an all-in-one media converter, look no further because we've got something amazing for you! You will no longer waste time looking for converter software because we have done it for you in this article review. As a result, we'd like to expose you to the Format Factory through this article review. This media converter is compatible with a wide range of file types. Not only that, but it is also capable of ripping DVDs and CDs to many file formats. Moreover, let us delve deeper into Format Factory, its sophisticated features, and more. Let us now read.
1. Advantage and Disadvantage
Advantages
It is completely free to use.
It is completely free to use.
It allows you to convert files at a high rate.
It has a disc-ripping feature.
Hardware acceleration is available.
It includes a built-in screen recorder.
It includes a watermark and logo remover.
It has an excellent skin choice.
Disadvantages
It is only compatible with Windows.
It proposes to install unwanted applications upon installation.
2. What is Format Factory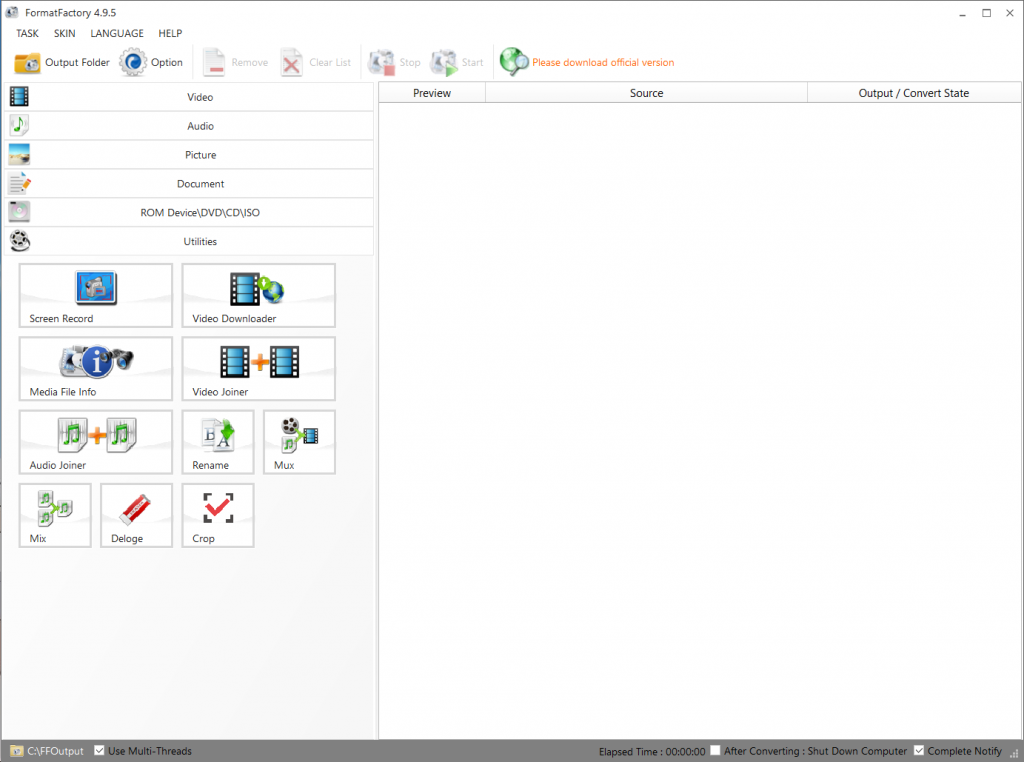 Format Factory is quite handy, particularly for Windows users. It supports a wide range of file types, allowing you to convert any file to another. It is also free and capable of performing a variety of operations such as converting, editing, and compressing your files, among others.
Features
While installing software, people have a preference for features. Because of the amazingness of a converter, it is also one of the reasons why people would use the program. That is why we will demonstrate the Format Factory features to you. Please see the following:
It supports the majority of multimedia formats.
It is capable of repairing corrupted video files.
It has the ability to reduce the size of your files.
It has the ability to define the format conversion.
It has editing capabilities.
It serves as a convenient backup.
It allows you to convert a PDF file.
It supports up to 62 languages in multi-language mode.
3. My Reviews About Format Factory
Interface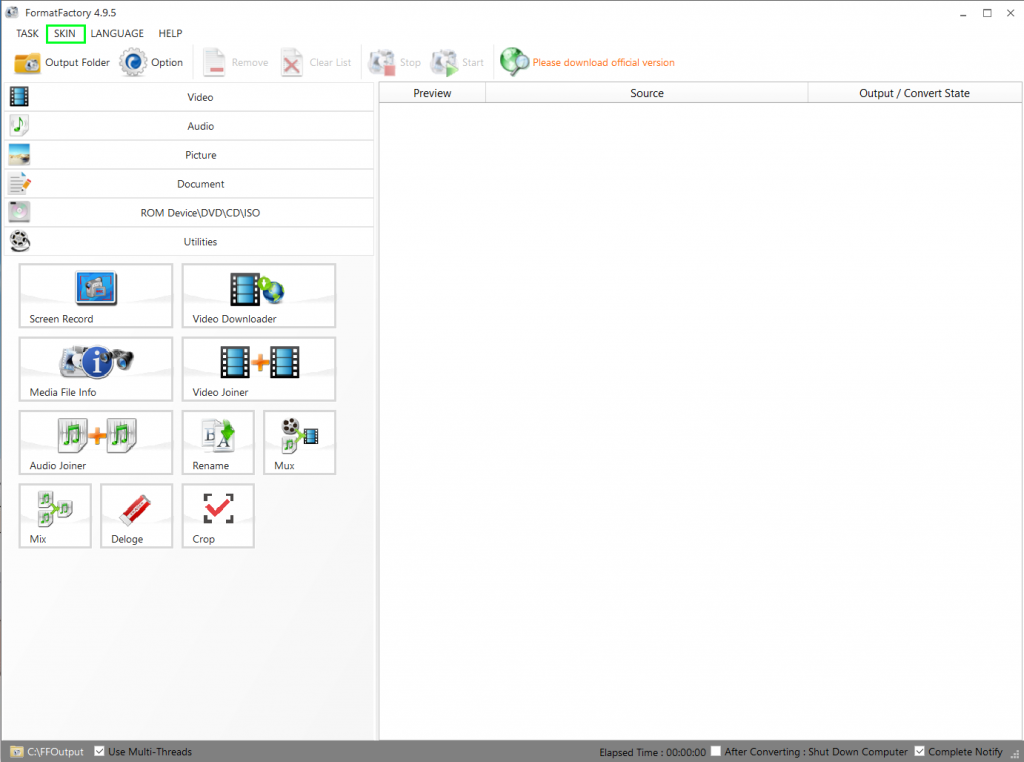 Format Factory offers a straightforward user interface. The Design of this media converter is appealing. You may use this to alter the color of your interface to your preferred color. To do so, start the program. Then you can select the option shown above. Choose your preferred color by clicking the SKIN. White, Pink, Yellow, Green, Blue, Purple, and Black are the available colors. You may also easily see the output formats that are available. As a result, you will no longer seek for them because all formats are easily accessible. Moreover, Format Factory gives you with simple software for converting your files.
Supported Input and Output Formats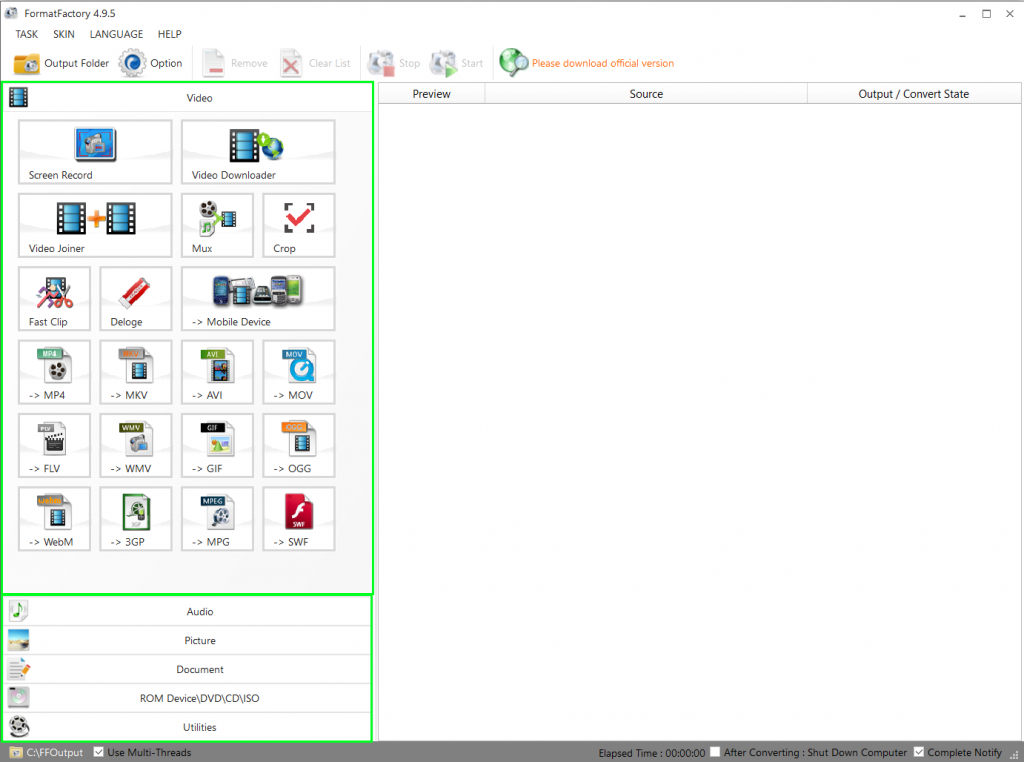 Video Formats: MOV, QuickTime, VOB, RMVB, WMV, AVI, MPEG-4, SWF, FLV, MKV, MPG, 3GP, MP4, MKV, GIF, WebM, and even more.
Audio Formats: MID, AAC, WMA, AMR, WAV, OGG, MP3, M4A, FLAC, APE, WAV, WavPack, DTS, AC3, MMF, M4R, MP2, and more.
Picture Formats: TGA, TIF, GIF, BMP, ICO, PNG, JPG, WebP, and more.
Documents Formats: PDF, Mobi, EPub, AZW3.
ROM DeviceDVDCDISO Formats: Bluray Disc, DVD, Music CD, Video File, CD, ISO, CSO.
CD, DVD Support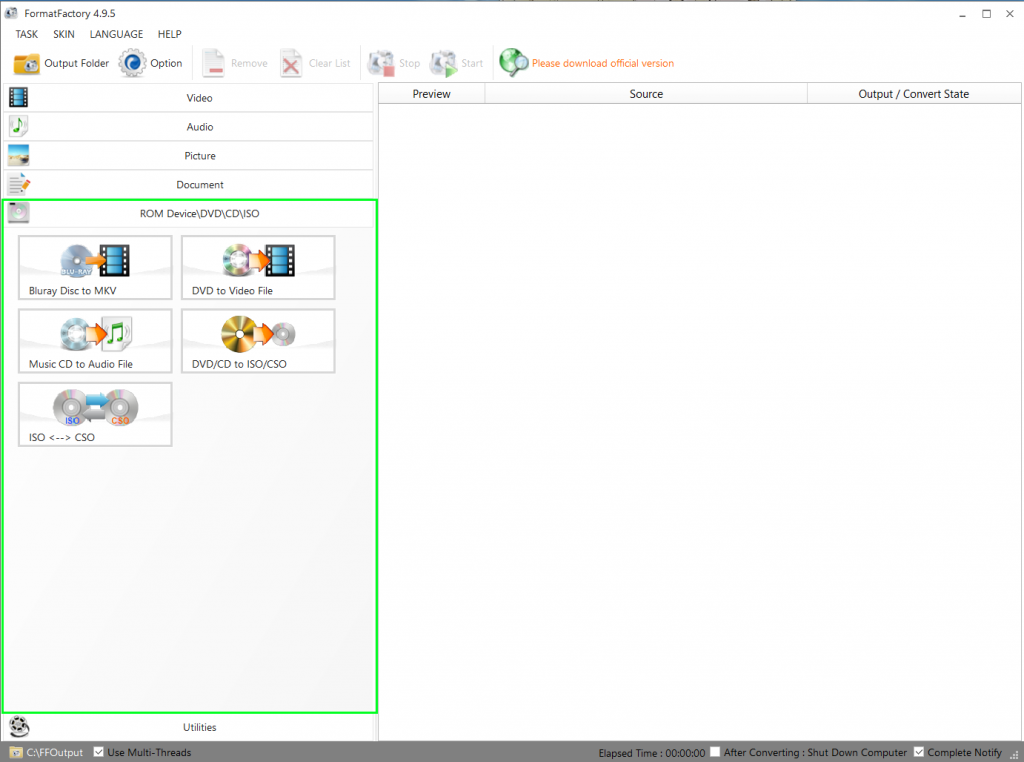 Physical CDs and DVDs are just too delicate. If you unintentionally scratch it, it will be rendered worthless. Format Factory has the advantage of supporting CDs, DVDs, and Blu-rays. What does it imply? You may save them to your computer and utilize them as needed. To demonstrate, run the software and pick ROM DeviceDVDCDISO from the list of choices on the left panel of the software. You'll know what you need after clicking, such as Bluray Disc to MKV, DVD to Video File, Music CD to Audio File, and more. The advantage here is that you no longer need to utilize the actual CD or DVD because you converted the content into another file.
Joiner and Converter for PDF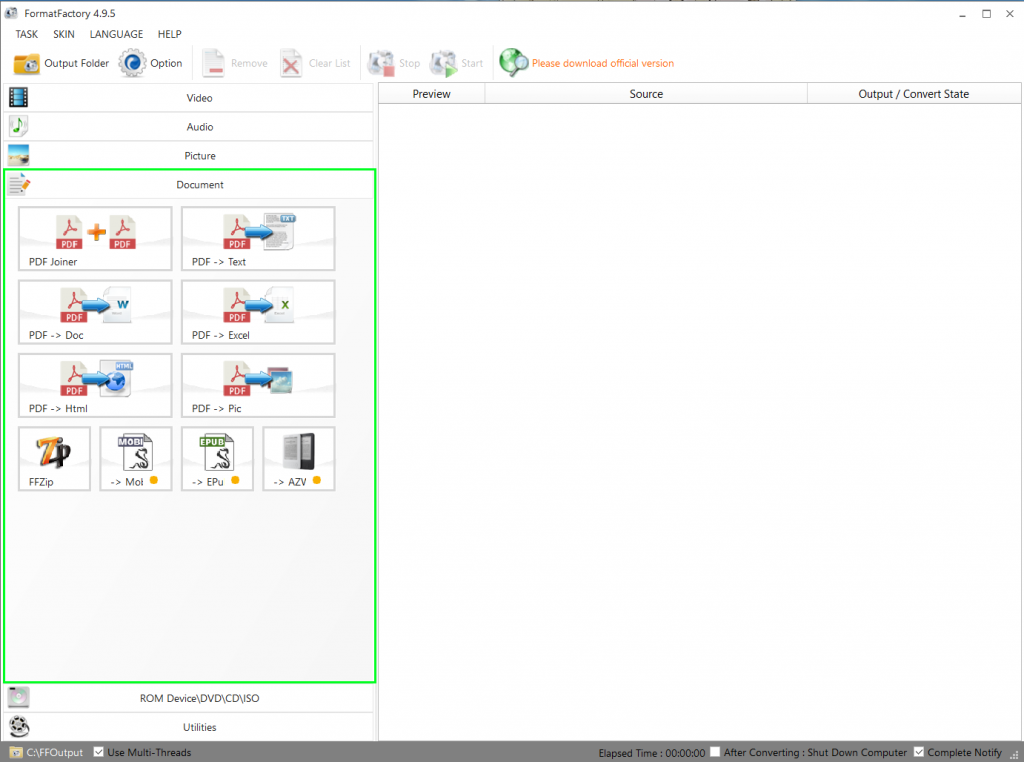 Format Factory includes useful tools such as a PDF joiner and converter. This will also help you manage your paperwork. In a nutshell, you may join and transform PDF files. Encrypt and decrypt as well. Format Factory can convert your PDF to Pic, Text, Docx, Excel, and more formats. To do so, start the program. Choose the Document after opening the program. It is visible on the left panel. Next you'll see all of your options, including PFD Joiner, Compress PDF, Decrypt PDF, Encrypt PDF, Epub, and many more.
Conclusion
Finally, we discussed Format Factory, its features, and how it operates in a variety of ways. We hope you learned a lot from this Format Factory article review.