You don't have to restart your PC every time you have a slowdown or the desktop becomes unresponsive. Refreshing the desktop environment can be just as beneficial as rebooting. It saves you a lot of time because you don't have to kill the programs you're using. You're merely restarting the desktop environment when you refresh the desktop. It's also great if you want to test how a software update affects your desktop.
How to Refresh Ubuntu desktop?
Now that you know the benefits of refreshing the Ubuntu desktop, take a look at this method you can use to restart your computer without rebooting.
method 1: Using GUI
Press ALT and F2 simultaneously. In a modern laptop, you may need to additionally press the Fn key too (if it exists) to activate Function keys.
Type r in the command box and press enter.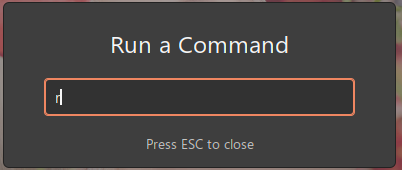 It should restart your machine without rebooting.
Method 2: Using terminal
 Go and open your terminal
Enter the following command and press enter.
gnome-shell --replace & disown
That's it!
Reference
https://frameboxxindore.com/linux/frequent-question-how-do-i-get-the-refresh-option-in-ubuntu.html
Image