You've come to the right place if you're looking for a step-by-step guide on how to clean install your graphics drivers. For those who don't tinker with their computers often, the term "clean install" may be unfamiliar, but it's worth looking into as a possible solution to game crashes and other driver installation issues.
Step 1: Download the driver you need
Using a driver updater tool is the quickest and easiest way to download a driver, but it takes more time and effort. Furthermore, you may download the wrong driver (e.g., one that isn't compatible with your system), causing all of your previous efforts to go down the drain and you have to start from scratch. In any case, make sure you look up the correct driver on the internet.
If you're using an NVIDIA graphics card, click here to search for your driver.
If you're using AMD, then click here.
If you're using Intel, click here.
Step 2: Uninstall your current graphics drivers
People uninstall their drivers in two ways, whether they know it or not: a) by clicking "Uninstall device" in Windows Device Manager, and b) by going to the Control Panel and uninstalling the drivers from "Programs and Features." I'm going to introduce both because they can't completely remove a driver from your computer (including its files, folders, and registry keys). Also, manually deleting all of a driver's files is time-consuming and error-prone – you'll have to figure out what files the driver contains, where they are located, and then delete them one by one (that can be quite a lot of work). For this reason, I recommend that you use the Display Driver Uninstaller (DDU) to do the job for you.
DDU is one of the most widely used and user-friendly tools for removing drivers. However, because DDU is a third-party program, make sure you get it from a reputable source. Keep in mind that while it may be a solution to driver installation issues in some cases, it also has the potential to make things worse in others. To put it another way, DDU is a risky proposition.
Download and install DDU.
Prior to running DDU, you should boot your PC in safe mode.
After booting in safe mode, launch DDU.
Click Select device type and choose GPU.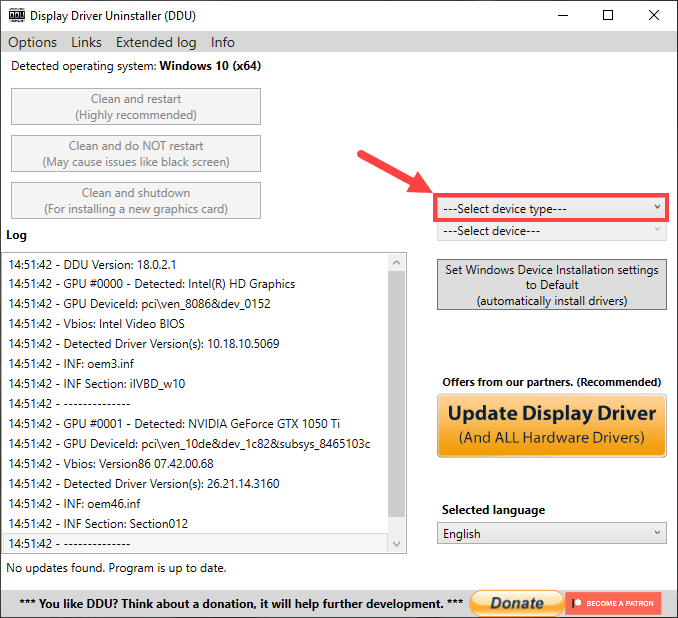 Then, click Select device and choose your graphics card type, such as NVIDIA.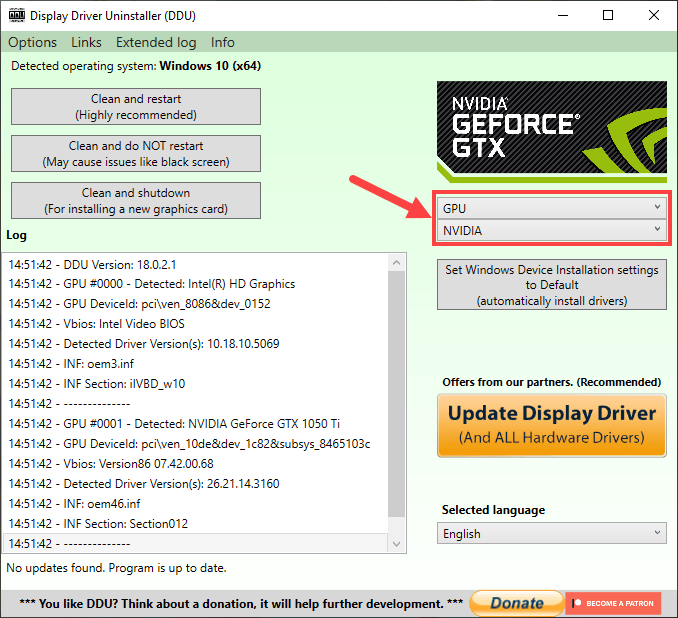 There are three options in the upper left:
Clean and restart – if you decide to keep your current graphics card or just do some sort of troubleshooting, this is the one you should click.
Clean and do NOT restart – if you need to remove several graphics cards, then this one should be your choice.
Clean and shutdown – If you want to replace the current video card with a new one, then you should click this option.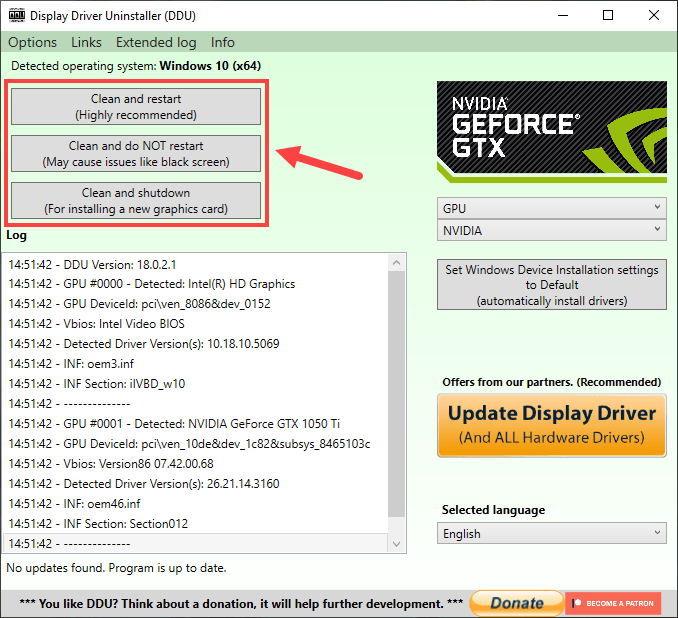 Wait for the uninstallation process to finish before selecting the option that best suits your needs. To move on, you'll need to reboot your computer, regardless of which one you choose.
Step 3: Install the downloaded driver
Finally, the last step is to install your driver. If you download the driver from your manufacturer's website, here's what you should do now:
After your PC restarts in normal mode, locate the driver file you downloaded in Step 1.
Double-click on that file (with a ".exe" extension) and then follow the onscreen instructions to install the driver.
Don't forget to restart your computer on completion for the changes to take effect.
Reference