The automatic update mechanism in Windows 10 is a useful system for getting maintenance and security patches, as well as updates for Microsoft products and device drivers.
Although Windows Update drivers usually work well, they aren't always the most up-to-date, and getting driver updates automatically has been known to cause problems on certain hardware configurations.
You could exclude drivers using the Windows Update settings in previous versions, but that option is no longer available in the Settings app. However, the Local Group Policy Editor and Registry can still be used to prevent Windows 10 from downloading driver updates.
We'll walk you through the steps to stop Windows Update from installing driver updates during automatic maintenance in this guide.
stop updates for drivers using Group Policy
The easiest way to stop getting driver updates from Windows Update if you're running Windows 10 Pro is to use the Local Group Policy Editor and follow these steps:
To open the Run command, press the Windows key + R keyboard shortcut.
To open the Local Group Policy Editor, type gpedit.msc and click OK.
Take the following route:

Windows Update > Administrative Templates > Windows Components > Computer Configuration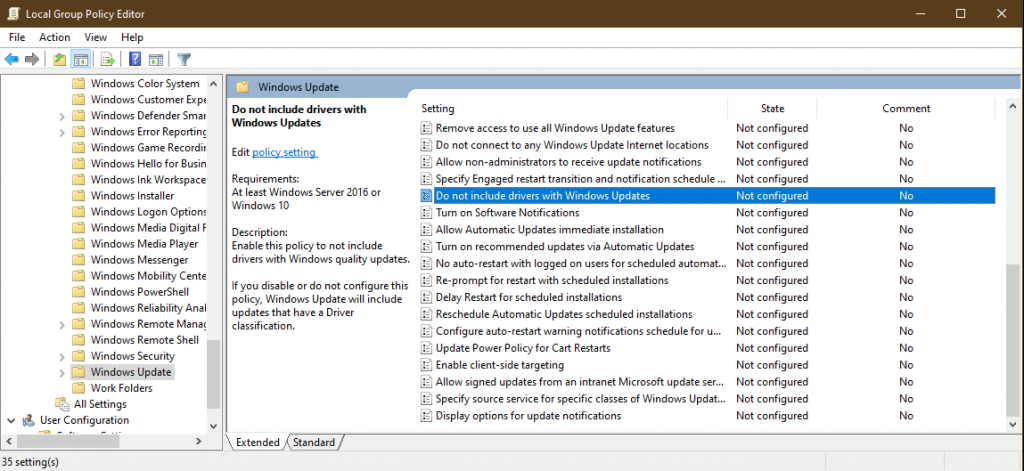 Double-click the Do not include drivers with Windows Update policy on the right side.
Select the Enabled option.
Click Apply. 
Click OK.
Disable Automatic Driver Updates Windows 10 from Settings
Activate the Control Panel

To open Windows Run, first press the Windows + R keys on your keyboard. To open Control Panel Windows 10, type the control panel and press Enter.
You can also open Windows Control Panel by going to Start, typing the control panel, and selecting the top result.
System Settings in Windows 10

To access the Windows 10 system settings page, go to System and Security -> System.
You can also press the shortcut key Windows + X and click System to quickly access the Windows 10 system settings window.
Then, in the left panel, click System info under Related settings, then Advanced system settings.
In Windows 10, turn off automatic driver updates.

Then go to the Hardware tab and select Device Installation Settings from the drop-down menu.
Under the message "Do you want to automatically download manufacturers' apps and custom icons available for your devices?" in the pop-up Device Installation Settings window, select No (your device may not work as expected).
When you click Save Changes and restart your Windows 10 computer, the feature of Windows 10 updating drivers automatically will be disabled.
Reference