Overview
A poor tendency of generative AI image tools is scraping – that is, effectively replicating or duplicating – artist styles for usage in the tools' produced pictures.
An AI tool that enables it to categorize an artist's style for its own purpose takes only a few months for artists to build their skill.
Artificial intelligence can steal an artist's original style, but Glaze protects them. It disguises the image to make it harder for AI to copy.
Researchers
Glaze was developed as part of a research project by PhD students and computer science instructors at the University of Chicago in order to safeguard internet users from "invasive machine learning applications" and "explore how ethical security methods may be utilized to generate genuine responses."
Ben Zhao, a professor of computer science at the University of Chicago and the project's faculty head, detailed how Glaze works in a TechCrunch piece.
"What we do is try to understand how the AI model views its own notion of what aesthetic style is," Zhao stated. And then we basically operate in that dimension – distorting what the model perceives as a specific style. So it's not so much a hidden message or a blockage of anything… It is simply learning how to speak the machine learning model's language and using its own language to distort what it sees of the art pictures in such a manner that it has little affect on how people view. And it turns out that since these two worlds are so distinct, we can obtain both large distortion in the machine learning viewpoint and little distortion in the human visual perspective."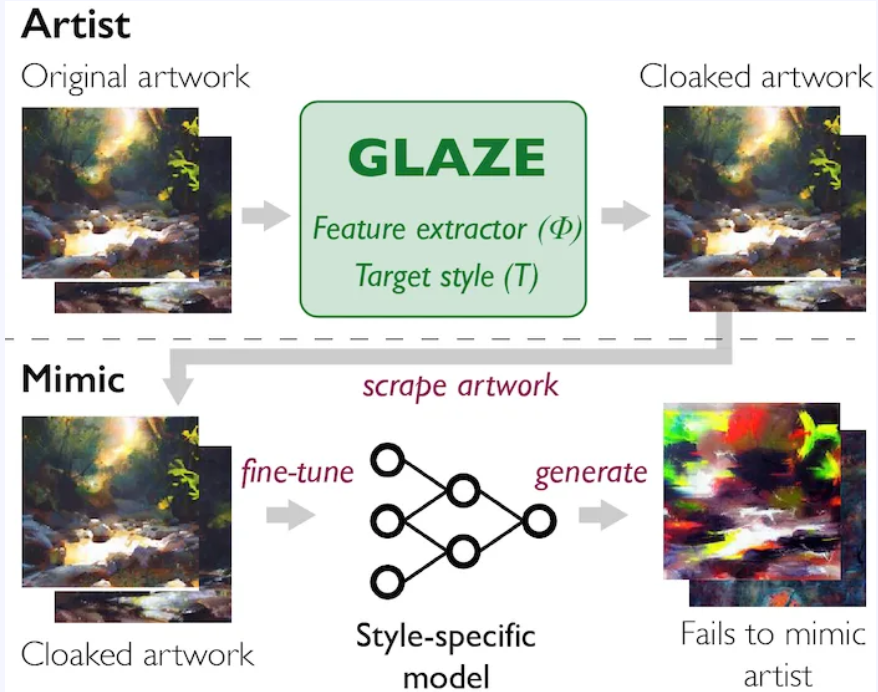 Zhao went on to say that the disparity between how humans and AI models see the environment "using mathematical representation" appears to be "fundamental and inescapable."
"In technical terms, what we're doing is an assault, not a defense." But we're utilizing it to our advantage," he explained.
Glaze's Limitations
Glaze has a strong ability to prevent style thievery. However, it is limited, and a development race may ensue as a consequence.
In a list of restrictions, the app's makers state that Glaze's adjustments to a person's generated art "are more noticeable on work with flat colors and clean backdrops, e.g. animation styles." While this is not surprising, we are looking for ways to decrease the visual effect of these designs." They also point out that, because to the rapid rate of AI development, the work that the tool can protect now may not be protected in the future due to developments in scraping that combat Glaze's cloaking method.
Despite the restrictions, the creators claim that "to the best of our knowledge, this is the only accessible tool for artists today to proactively safeguard their style while uploading their art online." Please keep in mind that this is continuing study, and we will continue to increase the robustness of our technologies."