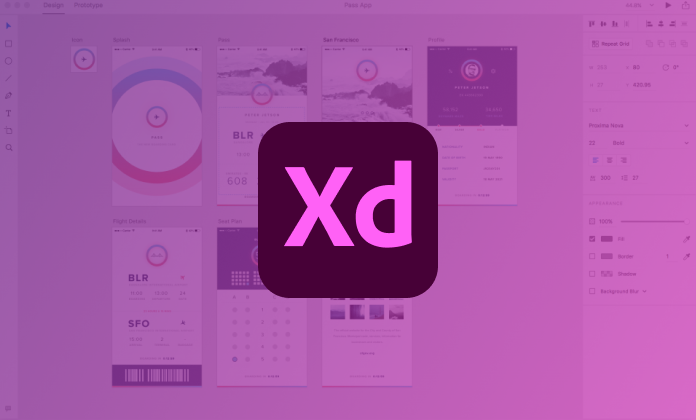 What Is It? Adobe XD was designed from the ground up with performance in mind. It allows you to create prototypes that look and feel like the real thing, allowing you to effectively convey your design concept and keep your team on the same page. Adobe XD is a vector-based experience design platform that gives teams the tools they need to collaborate to create the best experiences in the world. With cross-platform support on both Mac and Windows platforms, XD meets teams where they're working. At the annual Adobe MAX conference in 2015, Adobe XD was first unveiled as "Project Comet." Anyone still using Photoshop or Illustrator for UI design at the time found it to be a breath of fresh air. After all, designing for the web is considerably different from designing for paper.
Reason 1: XD Was Made For Web And App Design
The ability to create many artboards is one of my favorite features. With its vector-based architecture, XD allows me to produce and modify vector files that are easy to scale and optimize for modern mobile phones and computer monitors' high-resolution displays. In a single XD the document, you may create a whole website or mobile application. Creating components that can be utilized in both online and mobile design makes the process even easier. Stakeholders such as clients, developers, and other designers may easily share work-in-progress using XD.
Reason 2: It's A Lightweight Application
One of the main reasons why I like Adobe XD so much is because it doesn't consume a lot of system resources. In my experience, XD files are five to ten times smaller than Photoshop files. Most of my XD documents are so light that I can send them as email attachments instead of using cloud-based sharing tools. While XD doesn't bog itself down with the multitude of features that Photoshop offers, Adobe wisely included all of the features savvy designers need to work quickly and without interruptions. Opening an XD the file is noticeably faster than opening a Photoshop document, and everything — from opening the assets panel, working with layers, and full-stack prototyping — feels smooth.
Reason 3: Built-In Prototyping
It's quite simple to create prototypes in XD. Creating interactive prototypes that display different screen transitions or hover states on buttons and other components is one of my favorite things to do. I used to use the InVision and Marvel applications (no, not that one), both of which are excellent prototyping tools, but XD saves me the time and effort of having to convert files between them. You can email a stakeholder the URL of a prototype created using XD and allow comments on each project to get input as soon as feasible. The option to share a developer-specific prototype is another feature that I enjoy. They can see HEX codes, typefaces, padding, margins, image sizes, and many other things in this prototype.
Reference
https://www.adobe.com/products/xd/learn/get-started/what-is-adobe-xd-usedfor.html#:~:text=Adobe%20XD%20is%20a%20powerful,working%20with%20cross%2Dplatform%20compatibility.
https://www.liquidint.com/blog/design/why-use-adobe-xd-instead-of-photoshop-sketch