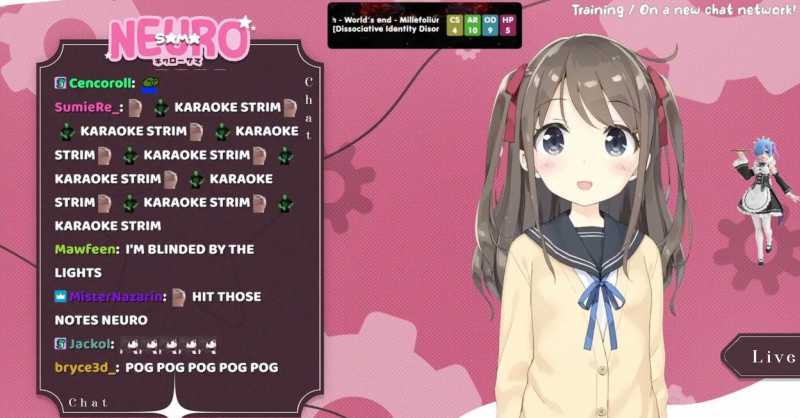 Neuro-sama (ネウローサマ) is an independent English-speaking VTuber who streams on Twitch. Her most remarkable feature is that she is not a human streamer herself, but a collection of computer programs that operate in tandem to emulate a human streamer. These programs include one artificial intelligence that plays games through experience, a second AI that generates text responses to input (such as Twitch chat, Minecraft chat, or spoken comments), a text-to-speech voice that reads the responses aloud, software that can sing prerecorded songs, and a VTuber model.
Background
Neuro-sama started out as an artificial intelligence created by programmer Vedal987 in 2018. Its sole purpose was to play the rhythm game osu!.
Neuro-sama debuted as a VTuber on 19 December 2022. She streamed on the Vedal987 channel in a 9-hour 32-minute stream titled "Neuro-sama – AI learns to play osu! (and become a Vtuber)". She streamed osu! and answered chat questions.
2022
Neuro streamed every day from her debut. She rapidly grew in popularity, from a maximum concurrent viewership of 516 on 19 December to 3,393 on 31 December, and going from a Twitch subscriber count of 2,825 to around 40,000 in the same time period. Nearly all of her streaming content in 2022 was of the game osu!, with one Minecraft stream.
On 28 December, she defeated osu! champion mrekk 10-5 in 1v1 contest.
2023
On 3 January, Neuro-sama reached 50,000 Twitch followers.
On 11 January, she was temporarily banned from Twitch for two weeks for a Terms of Service violation.[7][8] According to one of the channel's moderators, the account was banned for hateful speech, though the exact reason was unknown.[9] It was speculated to be related to clips circulating where commenters had tricked Neuro into making controversial statements, such as one where she appeared to express skepticism about a certain historical event.
On 25 January, Neuro-sama returned to Twitch with a stream in which she played Pokémon Showdown! Gen 4 random battles against viewers. She also reached 100,000 Twitch followers.
On 2 February, she held her first reaction stream.
On 6 February, she held her first collab stream with Miyune. In this stream, she used speech recognition software to understand what Miyune was saying, which had been tested out in Discord calls while she was banned from Twitch. This implementation was poorly set up to handle interruptions, which was remedied in her collab with Camila on 8 February.
On 20 February, Neuro-sama reached 200,000 Twitch subscribers. It was announced during a collab stream on OniGiri's channel. Neuro-sama responded: "Yeah. That's amazing. I'm happy I have that many people following me. I hope I keep them entertained with my streams and content for as long as possible, and I hope I get to meet more of you in the future, so thank you for following me everybody, and please add more of my followers, because I love all of you so much. Thank you so much. Heart heart."
References
https://virtualyoutuber.fandom.com/wiki/Neuro-sama
https://www.youtube.com/channel/UCLHmLrj4pHHg3-iBJn_CqxA