Starting on January 1, 2024, Valve's Steam platform will no longer support Windows 7, 8, and 8.1 computers. When the Steam Client software reaches the end of its support period, it will no longer work on certain outdated Windows versions, and Valve recommends that users upgrade to a more recent version to continue playing their games through Steam.
"This change is essential because fundamental Steam functionalities rely on an embedded version of Google Chrome that no longer works on earlier versions of Windows," Valve explained.
"Moreover, future versions of Steam will require Windows feature and security upgrades that are only available in Windows 10 and above."
Valve said that customers should upgrade their computers as soon as possible before January 2024 to keep themselves safe from malware and other dangers.
"This virus can cause your computer, Steam, and games to malfunction or crash, and it can also be used to steal your Steam account or other services' credentials."
Even though the firm declared that this special deal will stop on July 29, 2016, anyone using Windows 7 or Windows 8.1 can still upgrade to Windows 10 for free with a digital license.
Extended security updates for Windows 7 came to an end in January.
Microsoft said today that it would no longer provide security updates and technical support for all Windows 7 versions on January 10, 2023. (including Professional and Enterprise).
All editions of Windows 8.1, which was released nine years ago in November 2013, arrived on EOS on the same day.
According to StatCounter GlobalStats, roughly 5.39% of all computers worldwide now use Windows 7, and 1.15% use Windows 8.1. Both have been losing market share since Microsoft announced its plans in January.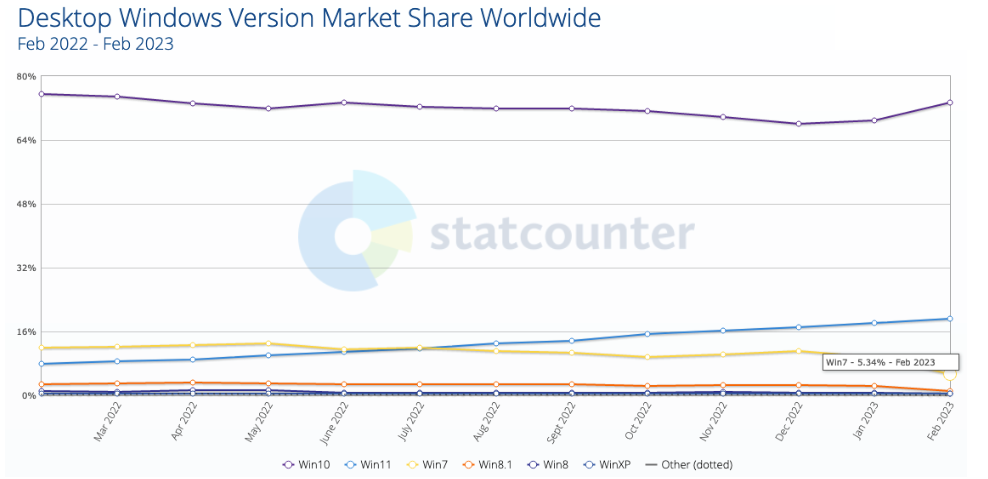 Google said that Chrome version 110 would end support for Windows 7/8.1 in February 2023, joining Microsoft and Steam in abandoning Windows 7 and 8.
Several firms discontinued support before Microsoft announced that the two out-of-support operating systems would no longer get security updates.
For example, NVIDIA discontinued Windows 7 and 8.1 drivers in October 2021.
The impact of this upgrade will be modest, according to the Steam February 2023 Hardware & Software survey, because just 1.58% of consumers are still using Windows 7, while 0.36% are using Windows 8.1.

SOURCE: https://help.steampowered.com/en/faqs/view/4784-4F2B-1321-800A