In this article, we're going to look at which utilities can improve the speed and efficiency of a hard disk. Listed below are methods you can do.
1. Optimize your Drives
Let's start with a native Windows tool called Optimize Drives. It can scan your system for defragmentation issues and then correct any issues it discovers.
It should already be on an automatic schedule unless you fiddled with the settings. Go to Start > Windows Administrative Tools > Defragment and Optimize Drives to see if this is the case.
After you've selected the drive you want to fix, click Analyze or Optimize, depending on which function you want to perform. To double-check that the scheduling is correct, go to Change settings and check the box next to Run on schedule.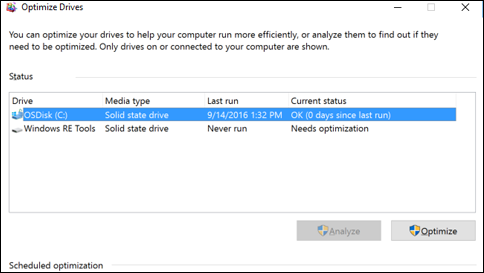 Although SSD defragmentation is less important than HDD defragmentation, Microsoft still recommends running the tool once a month. In fact, defragging your SSD will only increase wear and tear, and the SSD comes with built-in file management tools.
2. Windows Disk Management
Disk Management is the last native Windows utility that can improve a hard disk's speed and efficiency. It can be used to re-partition your hard drives.
One of the most commonly overlooked ways to speed up a hard drive is to use more partitions. In general, the more partitions you use, the better organized your data will be. As a result, the head of an HDD does not have to move as far to access the data, reducing read times.
To repartition a hard drive using Disk Management, follow the steps below:
Right-click the Start menu.
Select Disk Management to open the tool.
Right-click on a drive and select Shrink Volume.
Right-click on the freed-up space and choose New Simple Volume.
Choose how large you want to make the new volume.
Select the drive letter for the new volume.
Choose a file system for the new volume.
Click on Finish.
3. Use Disk SpeedUp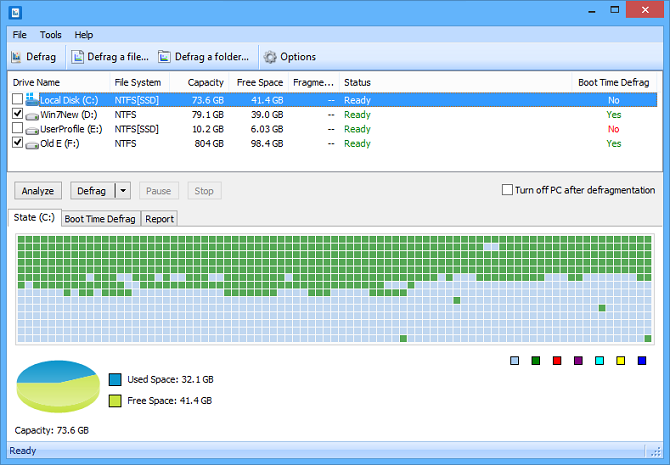 Disk SpeedUp is a third-party program that can increase the speed of an HDD. Any drives connected to your machine will be analyzed, defragmented, and optimized.
It has a few extra features over the Windows tool. Disk SpeedUp, for example, can shut down your computer after the defragmentation is finished. You could start it up before going to bed and wake up to a brand new computer.
The graphics in Disk SpeedUp are also superior to those in the Windows tool. The defrag map is more user-friendly, and there are more graphs and data to explore.
Many users have stated anecdotally that Disk SpeedUp is faster than the Windows tool. Naturally, your results may differ.
Reference