Canva is incorporating well-known generative artificial intelligence techniques into its platform for regular use.
The artificial intelligence (AI) business and companies like ChatGPT, Jasper, and Midjourney have seen explosive growth as picture, video, and text-generating technologies push industries in new directions.
Yet, one major challenge that these tools confront is that each generative AI tool must be accessed independently. Canva, an Australian multimedia design startup, takes the first step toward simplifying all of these functions into a single platform for common consumers. It introduced the "magic" capabilities of their now AI-powered visual work suite on Thursday, March 23. Canva CEO Melanie Perkins stated that the following products seek to assist regular users "get to their ideas fast" and speed up the creative process:
'Magic' edit, design
Just brush over a picture and explain what image should be created across the required location. This tool may be used to either add or replace items in a picture.
For example, a user can replace a picture of a kettle with "a cluster of purple flowers."
Canva's text-to-image function, which was beta-tested late last year, has been "supercharged." Users may be quite particular, creating visuals such as "a light pink watercolor of koi fish in a pond."
Stable Diffusion powers the text-to-image function.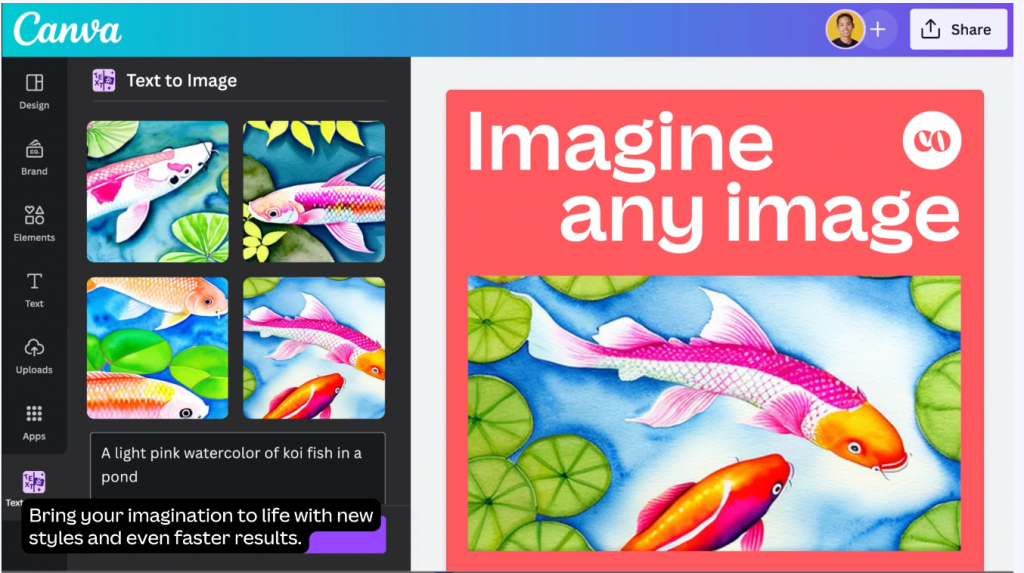 Users may also drag and drop their own photographs, and Canva will design the complete output for them with only a few instructions.
According to Perkins, their trust and safety team has put in place safeguards to prevent users and the AI technology from creating inappropriate or false pictures. Images are not generated by descriptions of politics, medicine, or discriminating or abusive language.
Magic Presentations
Users will just provide the AI with a description of the presentation. For example, a user may write "Philippine stock market fundamentals" and the site would generate a template containing stock market pictures and even suggested subheadings and subjects for the presentation.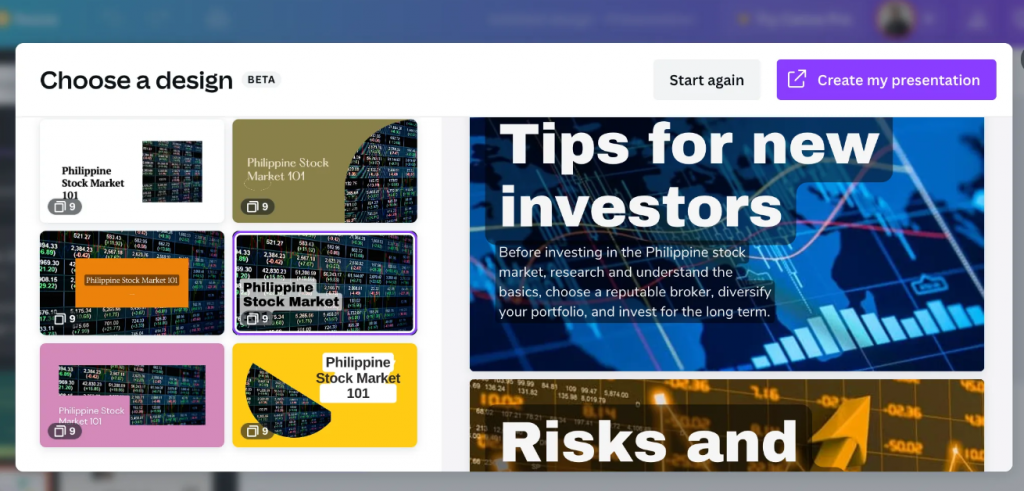 Users save time by not having to go through the various templates accessible on the Canva site since the AI technology delivers a more precise option for the presentation.
Beat sync
With the new beat-sync tool, content creators will find it easier to keep their films in time with the soundtrack. Canva's free users will be recommended timestamps to follow. The "sync now" tool for pro users will quickly time the music.
Magic Write, Translate
Having trouble inserting text into presentations? Canva's AI tool will now assist users in the creation of descriptions and content.
For example, a user preparing a presentation on social media content planning might use the AI tool to quickly generate bullet points by using terms like "social media marketing plans."
Canva has included OpenAI's ChatGPT into its product line.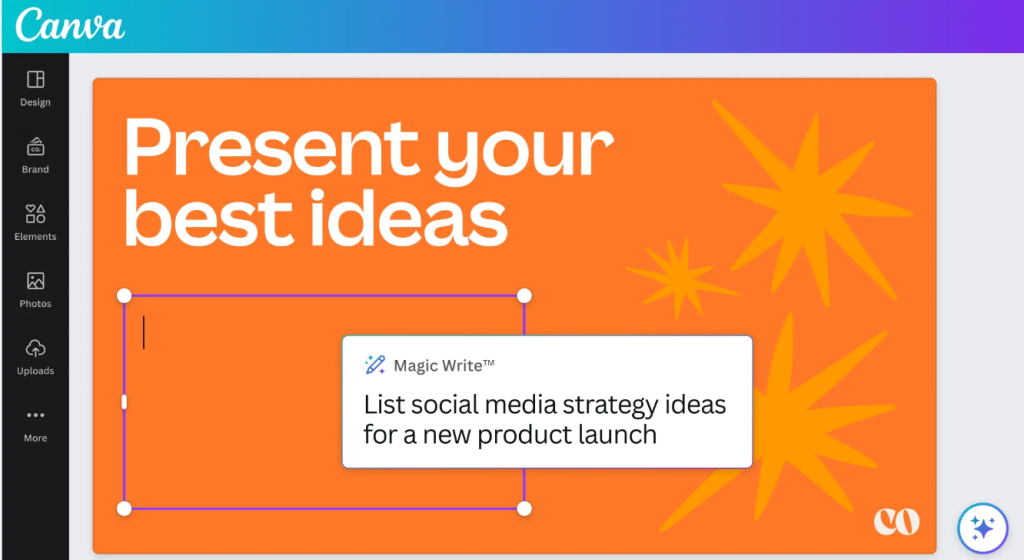 Canva also includes the translate tool, which allows users to instantaneously translate the text of posters and other compositions within the app. This functionality dramatically reduces the time designers and copywriters spend attempting to localize their content.
Brand Hub
Canva has developed a brand worksuite tool called "brand hub," which assists enterprises in staying on brand in an effective manner.
The brand center feature displays a company's authorized logos, typefaces, icons, and other brand rules, making it easy for team members to apply the appropriate assets for different visual or text projects.
Whenever a company changes its logos or typefaces, a "magic replace" tool will quickly update brand assets throughout the whole company with a single click. With this capability, organizations no longer have to worry about certain members utilizing outdated logos and typefaces.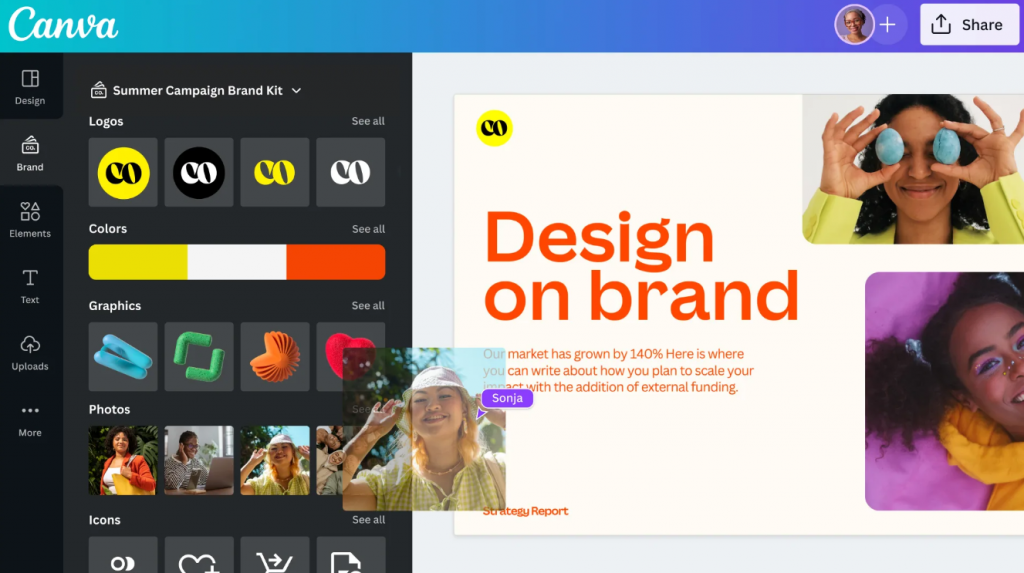 The brand hub also establishes brand restrictions, allowing administrators to regulate fonts and colors, reducing the need to check for hex codes or keep an eye out for unauthorized typefaces.
Canva's Growth
According to Perkins, Canva took roughly five years to gain 10 million users between 2015 and 2018. Canva, on the other hand, attracted 10 million users in only 30 days after launching the visual worksuite in the fourth quarter of 2022.
Canva has over 13 million paid users and 6 million paid seats in its corporate packages as of the end of 2022, more than doubling from 2021. Zoom and Reddit are two prominent companies that use Canva's work suite.
Canva has also been profitable since 2016, with an annualized sales of $1.4 billion in 2022. Perkins underlined that the company is profitable, has a good cash balance, and does not require further funding to achieve its expansion objectives.
Source:
From Ralf Rivas' article (Rappler.com – March 23, 2023)